When in Rome, do as the Romans do
View from the top

Date: 6/5/2009 3:20:48 PM ( 14 y ) ... viewed 1742 times
Here's my view from my office window, which is a clapped out portakabin on the roof of a decommissioned forty foot shipping container.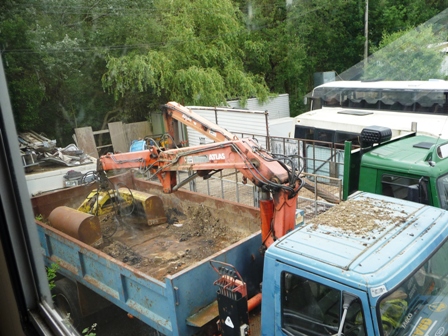 The door beside that window opens up to a sheer drop. That's the one for the customers who complain or people who the guv doesn't like. There are no toilets here, if you want to take a leak you do it anywhere. There is an on-site greasy spoon run by a guy who has a chemical portaloo outside, but you don't go there because it's reserved for number twos. And I guess the odd woman, if any dare venture near here. Certainly the health and safety inspectorate wouldn't dare, they'd probably suffer the same fate as the traffic warden in Lock Stock and Two Smoking barrels. Only kidding. I think the guvnor would just show them the door.
Ah, the guvnor. I am fortunate to know him. Being almost 7 feet in height, he is not unlike Vinnie Jones in stature and appearance. And indeed, the scene may well be taken out of a British gangster movie. What goes on here, well... I could tell you but then they'd probably have to kill me. But I have seen enough to know that where there's muck there's money. The guv has some great ideas, and yes they are all legal.
It's funny how you adapt though. I have to behave like Bricktop in The Snatch to survive. You kinda sense that when someone has a dig at you, you have to give them as good as back else you'll be seen as weak. How did I handle the vegetarian issue? Look, I'm not going to the ***ing cafe because I'm eating only veg, right? That's how I lost 7 stone. So after being amazed at my weight loss E tells me how he got his muscles (he's built like a bull with a few scars and tattoos). Actually, we had a good chat. He does circuit training and cycles 7 miles to work, unless he's with his girlfriend, then it's only 3, but he gets extra exercise when he's with her anyway. E encourages me to try it and eat carbs in the morning and protein after exercise. I tell him I have a Marin, and he says use it. I should. By then we are mates, so I feel more obliged to go to the cafe for lunch when the guvnor offers to buy for all.
The best part was how we could all leave for an hour with gates and portakabin door wide open and laptop in sight, despite the fact that delivery trucks are coming and going and people are walking round and poking their nose in. No one will dare take anything from the guvnor's place. He made his mark when he came here, they tried it on at first and tried to nick his plant equipment. Now he has "spoken" to them, they are all eager to offer him favours and keep a lookout for him.
I enjoyed the socializing. I had scrambled egg on toast. Yeah I know, such is the social pressures. But even though the tea tasted stewed, I think I'll stick with just that next time. My veggie diet is now accepted, and I'll proudly show them how I stick to it when I do start building up. And being with people who carry around huge pieces of metal around makes me want to.
Maybe it's a case of when in Rome, do as the Romans do.
Add This Entry To Your CureZone Favorites!
Print this page
Email this page

Alert Webmaster