Long term weight changes and graph, a quick update
My weight since the 1980s.

Date: 5/13/2008 4:26:52 AM ( 13 y ) ... viewed 2531 times
As you can see from this graph, my weight has steadily increased for decades: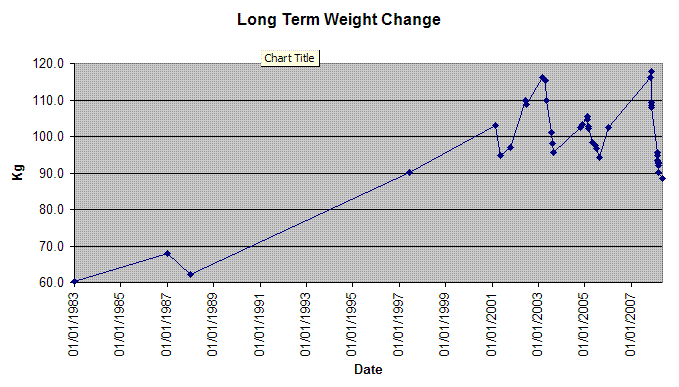 and from 2001 onward I tried dieting, and look what happened.
A few years ago a Russian friend mentioned "starvation". I said "we don't do that anymore, it's dangerous". Then one day I discovered fasting, and more importantly curezone. In Russia, they have the same word for fasting and starvation, now I understand my friend meant fasting.
In November 2007 I started my first fast, and I am delighted with the results so far.
Here are all my curezone posts to date, I was active until January 2008 then things took over, but I continued to fast and the weight loss has been fine. I will start posting again soon...
...and a quick update, I just broke my current fast early after about 5 days. More about this, and my future plans soon.
Add This Entry To Your CureZone Favorites!
Print this page
Email this page

Alert Webmaster