Just when I think I'm doing okay I run into yet another stumbling block… Sorry so long, but I really have to get this off my chest!
Last Thursday I landed in the ER …Twice! Then stayed for tests and monitoring until Sunday evening. I don't like going,(who does?), and waited out until the last second. After the initial shortness of breath I used an inhaler, then stepped up to a nebulizer breathing treatment, then two and a benedryl. This was a scary surreal remote feeling. Nothing was working as I was gasping and sweating trying to decide if I should call 911 or have my son drive.
Remembering an Epipen up in the cabinet, I thrust it into my thigh and headed out the door for the hospital….
Quickly realizing I wasn't going to make it that far we drove to the closer fire station, where I staggered in and woke them up. One good thing is an ambulance will ~immediately~ hook you up to oxygen. Solu-medrol in the ambulance and a couple breathing treatments at the hospital, then I was sent home. An hour later I was back again…
I use an inhaler and have albuterol breathing treatments that I use as needed, and have been taking Primatene tablets. Usually I can keep it in check. I thought maybe an allergic reaction because my breathing went south so fast, but something else is happening. Here's what I think is the real problem… some type of worm that I coughed up suddenly a few days prior to this episode. Gross! It was solid, not just mucus, and about 3
inches
long.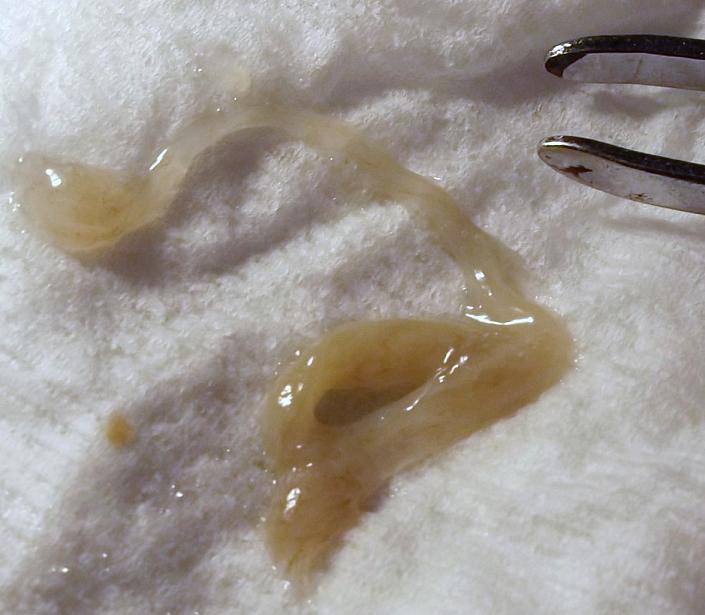 Putting it in water it looked like this:
The 1st visit I didn't want deal with the delusional label they give, but on the 2nd trip I made a copy and showed it to the ER head nurse. She went around the corner to discuss it with others and I was then given X-rays, more solu-medrol and SIX more nebulizer treatments at once!
Next day I showed my doctor, who took me seriously and ordered a chest CT, blood and stool samples. I still have not heard results… When the pulmonologist came I showed him, he just smiled and said, "You think that looks like a worm?" !!!!! Calmly I said, "Yes I do." Meanwhile in the hall behind him a nurse sees the photo and her eyes got wide as saucers, she nudged another nurse who saw. He tells me he'll prescribe an expectorant, then to the nurses amazement, he does nothing…
Now am I being delusional thinking this is a worm or he delusional thinking it's not???
Feeling glad to be alive. The steroids and stuff were good for quick saving my life, but in the long run are no good to stay on. Time for a SERIOUS switchout…