What is Life?
"What is life , but a brief sojourn on the earth plane of existence. It is harsh at times, beauteous at others.
We must be fierce like the tiger to endure it, yet soft and sweet like the rose to open to it with Love." --mayah 1-19-2018

Date: 1/20/2018 6:14:59 PM ( 5 y ) ... viewed 1552 times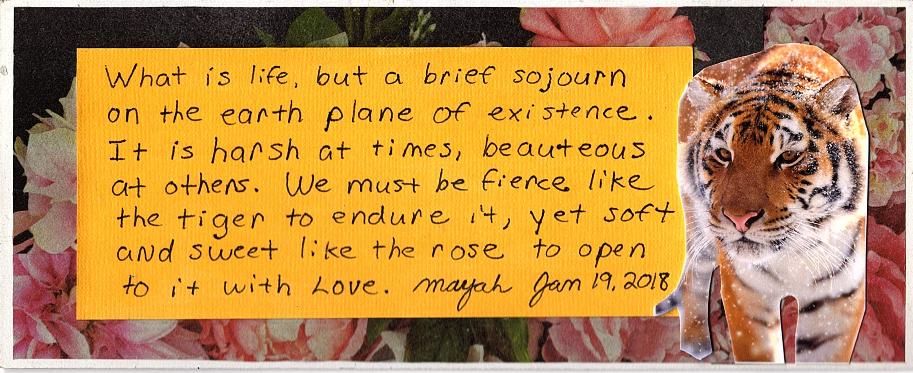 Last night an elderly neighbor died; I witnessed her being carried out to a waiting ambulance in a body bag. It was after 11:00 pm, and there were no other neighbors witnessing the event. If I hadn't gone out to move my car, I'd have never known this was happening since the neighborhood was very quiet; the ambulance had flashing lights but no siren. After her body was placed in the ambulance, it drove quietly and slowly away, lights flashing as if in tribute to her. She had a live-in caregiver and I debated with myself if I should go up to the house and see if the caregiver needed anything. I decided not to, remembering what it was like after my father died--I'm sure the caregiver was busy making the necessary phone calls to next of kin. So I went into my house and lit a candle for my neighbor on my Ancestor altar, recited the Kaddish*, thanked her for her time on Earth, and wished her a good journey to "the other side of the Veil". I could hear the words (above) in my head, and wrote them down, and created a small art piece in her honor.

As witnessing a death often does, it got me thinking about my own life. Just two days ago I heard an online interview with Gregg Braden**, a lecturer and author who explores the interface between spirituality and science; he spoke about a "turning point" in his life when he asked himself if he were to die today, would he feel his life had been fulfilled? His answer to himself was "no"; it got him thinking about what he really wanted to do with his life. He quit his well-paying job and started out on the path that has led him to where he is today.

So, asking myself the same question, if I were to die today, would I feel my life has been fulfilled? The answer is a resounding "NO". I have been (and in some cases still am) a child, a sibling, a student, a professional social worker, a spouse, a parent, a friend, a caregiver to ill family members, an artist, a blogger, a spiritual seeker--yet never in any of these roles have I ever felt "fulfilled". What is it I am to do or to BE in the elder years of my life? I have yet to figure it out.


*MOURNER'S KADDISH: Written in Aramaic, the Mourner's Kaddish is the Jewish prayer traditionally recited in memory of the dead, although it makes no mention of the deceased or of death, but instead is in praise of the Divine and calls forth the desire for peace.

English Translation of Mourner's Kaddish from "A Siddur for Erev Shabbat compiled and edited by Rabbi Marcia Prager" (prayer book for the Eve of the Jewish Sabbath on Friday night):

"May God's essence be revealed as great and holy, throughout the Universes that were created by Divine desire. May the realm of the sacred be completed in our lifetime. May the Holy Name be blessed as long as worlds endure, hailed, praised and exalted, though beyond any song or praise or description we could utter. May there be universal peace, life for us, for all Israel, and all who dwell on Earth. Amen."

LISTEN to the Mourner's Kaddish: https://youtu.be/luk85AVuHCg


**GREGG BRADEN: "Gregg Braden is a five-time New York Times best-selling author, and is internationally renowned as a pioneer in bridging science, spirituality and human potential" https://www.greggbraden.com/









Add This Entry To Your CureZone Favorites!
Print this page
Email this page

Alert Webmaster