Devotion-Month to The Holy Trinity!
The Most Blessed Trinity....

Date: 2/1/2010 12:40:40 AM ( 11 y ) ... viewed 2722 times
February is the Month of The Most Holy Trinity-God the Father, God the Son, God the Holy Spirit.
Devotion to The Most Holy Trinity, is very essential to our daily lives...
|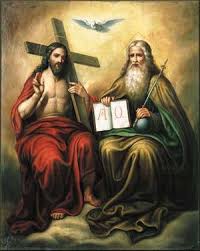 #3 in1- THE TRINITY
Show the Holy Trinity your love right now! Pray a Litany, or do a Novena in their honour and ask for what you need. Say a Glory Be, a Chaplet. Sing some hymns to them. You will attain all that you ask from the Most Blessed Trinity-Don't let this month go by without devotion to them.
You will find all these prayers within this blog.
To honour the Holy Trinity would reap you the greatest treasure, and make you the most wisest person on earth.
God Bless
Archangel777
Add This Entry To Your CureZone Favorites!
Print this page
Email this page

Alert Webmaster