TheGrimReaper
CureZone Profile
Find Users | Edit Public Profile | Edit Account | Upload Your Photo | Locate Photo | Donate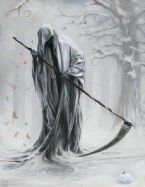 Send Private Message To TheGrimReaper
Send Email To TheGrimReaper
Hello, I am The Grim Reaper. I enjoy bringing a breath of truth, fresh air and wit into Curezone forums. However some people are not always pleased to see me, as you will see in the videos below. If you know of someone who is arrogant, untruthful or simply a real big pain in the butt, please email me or send me a private message with details, and preferably links to offending messages or threads. You can send a private message anonymously if you prefer. If I agree with your view, I may just get my scythe out and bring them down a peg or two with my razor sharp wit. Oh and I often anonymize my past posts (and sometimes moderators delete them anyway). This is because I don't like to give my methods away. I prefer the thrill of arriving unexpectedly and giving away as little as possible. If The Reaper posts on a forum, be afraid, be very afraid. He may be coming for you...
My homepages and my Blogs:
Messages TheGrimReaper posted on CureZone Forums & Blogs:
---
1.0313 sec
IP 44.201.72.250