Goals
Going to fast and eat raw for weight loss.

Date: 3/10/2009 9:27:49 PM ( 13 y ) ... viewed 1531 times
I plan to fast once a month for a couple of weeks and eat raw, to get my weight back down. I am going to go below my ideal weight because after I am finished and start including cooks foods into my diet, I will gain some weight back. I am going to slowly add some beans and cooked vegetables to my diet once I finish dieting. I made a goal graph, once I am finished I can fill in the actual weights to see how close I made it to my goals.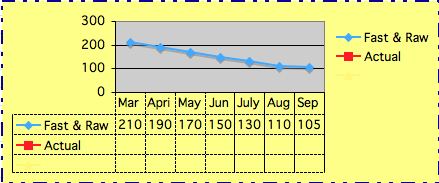 I am starting a fast tomorrow. Right now my weight is 231. I hope to get to 210 by then end of this month.
Add This Entry To Your CureZone Favorites!
Print this page
Email this page

Alert Webmaster