Below was quoted from the website of " Solving the Enigma of the Earth "
http://sora.ishikami.jp/image_dir/index.php?id=20071116183345
See also "The True SKY(SORA) Info" ( by Takashi-san) .Many articles that translated "Solving the Enigma of the Earth" of Japanese are put on this web site.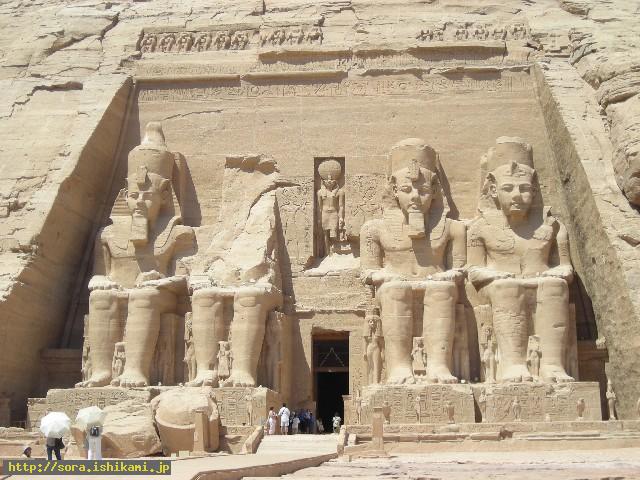 When I was writing "Story of ISHIJINS and human beings", tears came to my left eye.
ISHIKAMI said, "Please call us 'ISHIKA' and 'OSHIRITO' instead of Isi(s) and Osiri(s). I (ISHIKA) is ISHIJIN who had no face on the left."
ISHIKAMI said as follows:
ISHIJINS of the Smaller (Abu) Simbel Temple are our children.
After ISHIJINS checked a taste of food, they used things on the chins to throw remains of food.
They took nourishment(melted ISHIKAMI) from their pots on the heads.
And tears came to my right eye, ISHIJINS said that they directed other ISHIJINS to create obelisks and pyramids.
以下、地球の謎解きさんより
http://sora.ishikami.jp/image_dir/index.php?id=20071116183345
イシジンと人間を書いていると左目から涙が出て来る。
イシ(ス)=イシカ、オシリ(ス)=オシリトと呼んでほしいと。
そして「顔のないのが私(イシカ)です」と「私たちの写真を載せてほしい」と言ってきました。
アブシンベル小神殿が子供たち。
顎にあるものは食べ物の味を見てカスをそこから出した。
エネルギー源は頭の上のお汁のツボ。
ついで右目から涙が出てきて、オベリスクとピラミッドを創る指示をしたイシジンと。