CDH - The New Way of Using MMS to Fight Disease by truthquester ..... Miracle Mineral Solution MMS Forum
Date: 1/8/2014 9:56:27 AM ( 7 years ago ago)
Hits: 9,745
URL: https://curezone.org/forums/fm.asp?i=2139467

1 readers agree with this message. Hide votes What is this?

Hello Everyone,
I want to share with you a new way of making and using Miracle-Mineral-Supplement - it's called CDH. Per Jim Humble (and myself), it's MUCH easier on the stomach, causing NO NAUSEA in most people. It's also easier to make and use because it's a pre-activated version of Miracle-Mineral-Supplement . Lastly, to improve the taste, you may add Sweetleaf brand liquid stevia.

Following is how you can make a 720ml bottle of it. When you're finished, each ml will contain 1 pre-activated drop of Miracle-Mineral-Supplement and will be between 3000 and 3500 ppm. It's dosed by the ml and not by the drop. 1ml of CDH = 1 activated drop of MMS.

***Special Note: If you want to make "CDH Lemonade", increase the amount of CDH used by about 35% to offset the neutralization of the CLO2 caused by the lemon juice.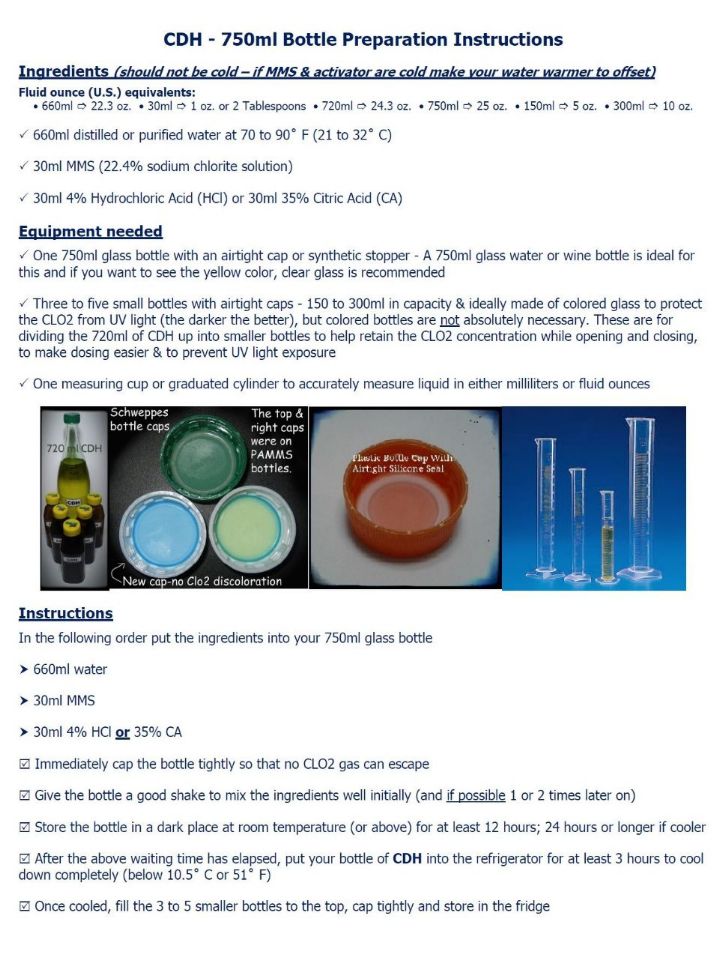 May you be well,
Truthquester



<< Return to the standard message view
fetched in 0.05 sec, referred by curezone.org/forums/fmp.asp?i=2139467