Enzyme Heat Treatment
I am not a medical professional just a lay person. I experienced my first attack of this 9 years ago. I went through what everyone who has does. E.g. Dermatologists, MD's, Blood work, etc. I took samples to the Head of the entomology department and saw my "samples" blown up on the wall of the university lab. To my unbelief she projected the "samples" with a massive scope and I saw, what I knew was some type of organism, looking like a wad of black and red threads. I was told I was having an allergic reaction to red and black fibers from my environment. I could write a book and probably should about the rest of my story. But... all I want to do is share a rather successful treatment. This is the result of I'm sure thousands of hrs of research and lots of heart felt prayer.
Goggle "near infrared sauna" DIY. That is the most important player in this treatment. You need to make yourself some pretty serious heat.(Spirochetes will die at 104 degrees) I made my DIY sauna on a very light weight rack so it can be used in the tub/shower stall. Next make an enzyme oil...again...DIY...rough measurements: 1/2 a papaya (seed, flesh, skins all chopped..greener the better), 1/2 jar of coconut oil, put it in a food processor with enough water to get it moving, add a healthy tablespoon of unseasoned meat tenderizer and 15 capsules of opened super digestive enzymes. Blend it all until emulsified. Use a couple of silk or silk like scarfs to strain it two times. What you will have is a papaya based enzyme oil. Set up the heating element...get a scraping object (my choice a dull butcher knife) and a spatula to reach your back. A roll of paper towels and a trash can. A large glass of ice water. Put towels under foot to secure your footing. Turn on something interesting to listen to and get ready.
Step in and get really warm...then apply the enzyme oil...you will only need about 3
oz
of it. Rub it in with your hands and brace yourself...this stuff will start surfacing everywhere but most significantly in areas where ulcers are or have been. My experience...first treatment literally hundreds of things off...second treatment...1/2 that...within 5 treatments (about 30 mins each) 25 wads....with each session the organisms will get smaller and smaller.
After treating your skin you will need to move the light and then shower off using a soft bush. Rinse your feet very well before stepping out. Spray your shower down with ammonia or bleach and rinse. Use heavy paper towels to dry with. Follow with a rub down of a mixture of oils
I feel that capsaicin oil is critical...it's able to eat holes in fungus making it more vulnerable to treatments. It also kills and repells mites. I order capsaicin oil...hot...hot...stuff...high schoville scale. You must proceed with caution...mix with coconut oil. I think neem oil, oregano oil, clove oil, rosemary oil, eucalyptus oil is a good mix. Go heavy on the neem oil. These oils are anti-fungal, sterilizing, kill eggs, kill mites, repellent, etc.
It seems to me getting the burden of the bulk off you enables the immune system and other meds of your choice to work much faster than without the treatment. I have been well (well enough to feel normal and forget about it) for approx. 2 years at a time. I have recently been re-exposed and within 5 days of starting this treatment am already enormously better.
The reason the base of the oil is papaya..is multi-fold...and it might be hair of the dog. The heaviest out breaks of this are in areas where the US grows
Genetically-Modified
papaya crops.(Ringspot virus coat). I,like most, have some theories. The entire Papaya plant and fruit is used in many medicinal forms. Most importantly to combat and neutralize poison stings...like jelly fish stings...insect stings...etc. Papaya seeds are used world wide as antihelminthic treatment (eat the seeds too...they are safe for humans & dogs)...the skin of Papaya is able to soften necrotic tissue (like that ring around non-healing ulcers). In fact, a slice of green papaya skin with the pink flesh down...taped to my arm...closed one the original non-healing ulcers I had....that's what initially sent me down the papaya trail.
This is a very complicated subject...more than just a skin issue I understand...I just want to share this information again. I want to help anyone I can. I shared this information years ago but I cannot find a shred of it on the internet...just wanted to share it again. God bless you all.
I tried to get some pictures of what came off today (8/24/15)...I think the lash shaped organisms are the major player...I have samples...now if a Parasitologist will just step up...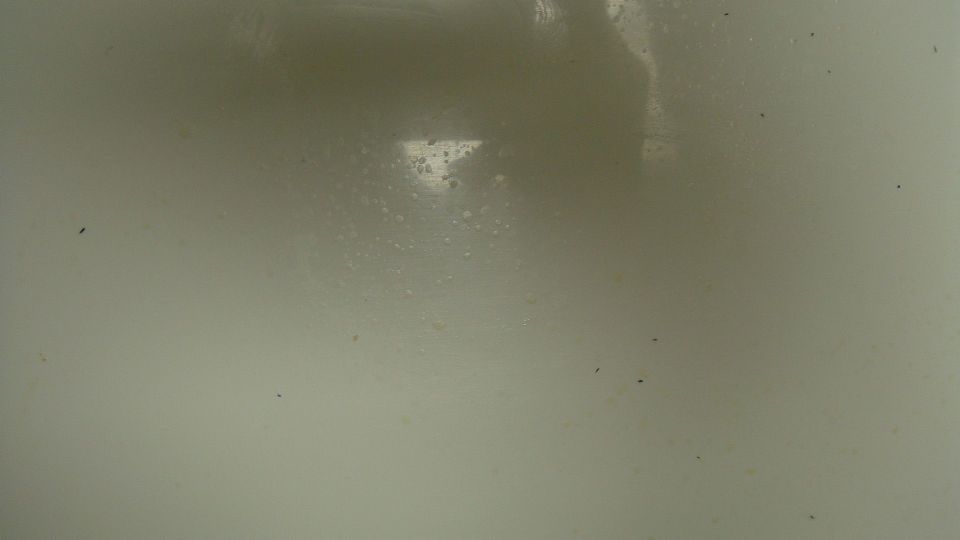 8/25/15
Today there was remarkably less black organisms that I removed in the enzyme heat treatment (closer to 1 hr)today. I started last night following my shower with Ted's, from Earthclinic,
saturated borax and peroxide spray. I used this that last time...I follow his recipe but I added essential oils and chelated copper sulfate drops...did that before too...I think this formula keeps it from matrixing into the skin or webbing or sporing or weaving or sticking or whatever it does...The rash on my abdomen has reduced from 1/3 of my entire stomach to a patch a little smaller than the size of an open hand. This rash came up around the scar from one of the original ulcers...I have it pointed out in my picture.
Any nicks or spontaneous line cuts I cover with liquid bandage. I'm Combing hair with a lice comb daily (It's a hassle but I think important). Washing sheets daily. Am taking oregano oil, capsaicin capsules, digestive enzymes, probiotics, baking soda(using Ph strips to monitor levels), Bactrim & anti-parasitiic. Some herbs that are good for the nervous system: Kava Kava, Passion flower, Valerian root, Chamomile, Lemon Balm. Melatonin taken early will help with sleeplessness. It can cause vivid dreams for some. So...I will keep looking up that's where my help comes from...there is always something to be thankful for. Going to read Ps 91 and have some tea...God bless you all.
8/26/15
HOT CHILD IN THE CITY!!! I used the topical mixture of capsaicin, coconut and oregano oil last night and things got very hot in my little world. I am sure the pepper oil is effective against this organism. The abdominal rash is again improved and the surface is drying...some "dark specks" are dried in the skin surface.
The pepper oil drives things like the one pictured on my finger tip out of my skin... but only after the sticky film (Biofilm?) is degraded so it can be reached. The degradation is done with the enzyme oil. Apparently the long baths work to remove the film too...I know baking soda baths worked pretty good in the past. You can buy large bags of soda in the pool department.
The sample I pictured on my finger is stunning...I haven't seen a better one. The flagella type is held high...all the loops are in perfect formation and in placement of 4 feet...the density of the bulk of the body is visible...it's just incredible...it is almost clear like fishing line. It also appears to obviously be a smaller version of my earlier posted picture. HELLO....she is in a jar in my kitchen.
For some reason I think this clear version is a female...I think "she" sometimes takes on this formation and other times lies flat against the skin. I have seen a large one about 3" long in the past stuck to my side. I also think this is the part of the organism that stings.(Could be a relative of a spider mite?).
I don't really know how to get this message the most visibility. I hope someone who needs it sees it. I am going to continue updating. Please if anyone can tell me a better way to post this way, with updates, let me know. Sincere prayers for all...going back to the heat now...Tennesseeshine