Al-Qaida claims Responsibility
Al-qaida owes up to london blast

Date: 7/8/2005 4:03:24 PM ( 17 y ) ... viewed 3546 times
| Home - Latest News | Introduction | Bayside Prophecies | Directives from Heaven | Order Form | Testimonies | Veronica Lueken | Miraculous Photos | Bible | Radio Program
Al-Qaida claims responsibility for London's blasts: "Rejoice, Community of Muslims"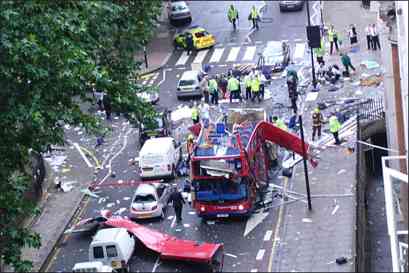 "Only you now, you, My children of reasoning, of the age of reasoning, must now make a full inventory of the graces you have gathered. For in an instant death will come upon your land, and many shall be claimed. Will you be ready? Have you prepared your children? Have you prepared your households? Many parents shall cry. Families shall be torn asunder. Blood shall be in the streets." Our Lady of the Roses, June 18, 1981
38 dead, 700+ injured in 4 London blasts...
LONDON - Three blasts rocked the subway and one tore open a packed double-decker bus during London's rush hour this morning, sending bloodied victims fleeing in what a shaken Prime Minister Tony Blair called "barbaric" terrorist attacks. A U.S. law enforcement official said at least 38 people were killed and London hospitals reported more than 700 wounded.
A group calling itself "Secret Organization - al-Qaida in Europe" has posted a claim of responsibility for the series of blasts in London, a German magazine reported Thursday. Der Spiegel magazine reported that the group posted its message on a Web site popular with Islamic militants, which it did not name. It said the group claimed the explosions were in retaliation for Britain's involvement in Iraq and Afghanistan.
Radical Islamists made this claim today: "Blessed raid in London"
"The Secret Organization Group of al-Qaida of Jihad Organization in Europe (Jama'at al-Tanzim al-Sirri, Tanzim Qa'idat al-Jihad fi Urupa). In the name of God, the Merciful, the Compassionate, may peace be upon the cheerful one and the dauntless fighter, Prophet Muhammad, God's peace be upon him.
O nation of Islam and nation of Arabism: Rejoice for it is time to take revenge from the British Zionist Crusader government in retaliation for the massacres Britain is committing in Iraq and Afghanistan. The heroic mujahidin have carried out a blessed raid in London. Britain is now burning with fear, terror and panic in its northern, southern, eastern and western quarters.
We have repeatedly warned the British government and people. We have fulfilled our promise and carried out our blessed military raid in Britain after our mujahidin exerted strenuous efforts over a long period of time to ensure the success of the raid. God says: "(O ye who believe!) If ye will aid (the cause of) Allah, He will aid you, and plant your feet firmly. "
Pope Benedict XVI calls London blasts 'barbaric acts against humanity'
VATICAN CITY, Vatican, July 7 - Hours after a series of terrorist attacks rocked London's transit system during this morning's rush hour commute, Pope Benedict XVI sent a message to Cardinal Cormac Murphy O'Connor, Archbishop of Westminster deploring the inhumane acts as "barbaric."
"Deeply saddened by the news of the terrorist attacks in central London", the message to Cardinal O'Connor said, "the Holy Father offers fervent prayers for the victims and for all those who mourn. While he deplores these barbaric acts against humanity he asks you to convey to the families of the injured his spiritual closeness at this time of grief. Upon the people of Great Britain he invokes the consolation that only God can give in such circumstances."
"America, your country, the United States, a land of plenty, has never witnessed mass slaughter and death, but My children, unless and I say, unless you turn back now, your country will witness death such as never has gripped the heart of man before, a terror brought about by the knowledge that there has been a rejection of truth, a rejection of your God." - Jesus, December 7, 1976
Our Lady of the Roses awesome Bayside Prophecies... http://www.tldm.org/../Bayside/
These prophecies came from Jesus, Mary, and the saints to Veronica Lueken at Bayside, NY, from 1968 to 1995.
YOU WOULD GROVEL ON YOUR KNEES
"If only I could show you, the prideful and boastful United States and Canada—if I could show you what the enemy has in store for you now, you would grovel on your knees to make restitution to the Eternal Father. But now this must be taught to you in a most sorrowful way."
Our Lady, September 27, 1986
YOU LIVE IN A DREAM WORLD
"My children, awaken from your slumber! You live in a dream world. You believe that this cannot happen to you. O My poor children in North America—Canada, the United States-you do not know what it is to see the blood flow in the streets, to see your loved ones torn—their arms, their legs missing, their bodies and their bowels spewing out upon the grounds. Is this what you want?" - Our Lady, June 18, 1982
FROM COAST TO COAST
"Your country, the United States, My child, shall have great trial—the winter and the wars. There shall be internal strife in your government, and your streets will become running with blood. It is not a sight, My child, not a pretty sight! Oh! Oh!
"That carnage, My child, that you view shall extend not only from the cities into the country, but from coast to coast in all of North America and the world." - Our Lady, October 6, 1980
Directives from Heaven... http://www.tldm.org/directives/directives.htm
D10 - Consecrate Russia PDF

D103 - Communism PDF
D104 - Invasion PDF
D136 - Visions of the Great War: The Mideast PDF
D139 - Preparations: Spiritual PDF
D140 - Preparations: Material PDF
D156 - Terrorism PDF
D158 - America the Beautiful PDF
Articles...
Planned U.S. invasion through Mexico
http://www.tldm.org/news3/Nicaragua.htm

Al Qaeda might to try exploit security gaps in the Mexican border
http://www.tldm.org/news7/Al-QaidaMexico.htm

Are terrorists breaching U.S. - Mexico border with tunnels?
http://www.tldm.org/news6/tunnels.htm

Russian arms network seen behind Al Qaeda
http://www.tldm.org/News4/arms_network.htm

Islamic website claims 'final blows' in 'crucial battle' about to begin
http://www.tldm.org/News6/terrorism1.htm

Al-Qaida: Be ready for attack killing 100,000
http://www.tldm.org/News6/Al-Qaida1.htm

Al Qaeda has considering using Mexico as entry point into U.S.
http://www.tldm.org/news7/AlQaedaUsingMexico.htm

Palestinian Authority sermon: We (Muslims) will rule America
http://www.tldm.org/News8/PalestinianAuthoritySermon.htm
We encourage everyone to print or email copies of this web page to all the Bishops and all the clergy. Also, email or send this web page to the news media and as many people as possible.
"My children, My little humble children, I appeal to you as your Mother, go forward on foot, knock on the doors; bring the light to your brothers and sisters. For those who have been given great grace, much is expected of them." - Our Lady of the Roses, May 26, 1976
"As disciples of the latter days, My children, much shall be asked of you, but I assure you: all that you give in faith and charity shall be returned to you threefold." - Jesus, June 1, 1978
| Home - Latest News | Introduction | Bayside Prophecies | Directives from Heaven | Order Form | Miracles & Cures | Veronica Lueken | Miraculous Photos | Bible | Radio Program |
Add This Entry To Your CureZone Favorites!
Print this page
Email this page

Alert Webmaster