I'm sorry to dissappoint anyone, but after I finish this post, I am going to have a cucumber. That's right. I'm breaking the fast. I just got back from a dressing room. Besides taking pictures, that is the only true way of knowing if you look healthier. I looked like an out-of-shape mess. I also noticed my swollen abdomen is still present - even after my period. My bodyfat has either increased or has stayed the same since 12 days ago. Actually, it has most likely gone up since my breasts are bigger, but don't hurt. I am truly dissappointed.

I know many of you want me to go for 30, perhaps 40 days. However, I think it is best for me to leave my toxic apartment tomorrow, and slowly get back into my normal routine. I suppose I can blog about my post fasting experience if anyone cares to follow that as well.

Now don't get me wrong, I don't think this was a total waste. However, fasting might not be for people like me who care more about how they look naked than in clothes. If you naturally have more muscle, then you can easily afford to fast. However, if you are a true endomorph like myself, you might end up fatter then you started.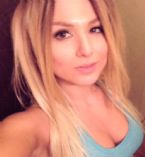 SuperWoman29