Day 6 and 7
2 more days of being sober. It has been a long, long, long time since I have been sober for so long!

Date: 8/6/2006 12:30:27 PM ( 7 y ) ... viewed 1413 times
Yesterday was a lot of fun! We took our daughter to Beech Bend ( http://www.beechbend.com/ ) and she loved it. My girlfriend wouldn't ride the scary rides but my daughter definitely has the same thrill seeking blood that I have. We got on one of the most feared rides in most amusement parks. The one that goes way up in the air and then drops you straight down! She kept wanting me to spin as fast as we could on all the rides. We rode the tea cups 3 times trying and spinned ourselves silly. At one point, we were on a ride and I was spinning it as fast as I could and my whole body just gave out and I was hanging for dear life. A few seconds later my daughter told me to do it again! It was a blast and I have been drunk at every park I ever went to like this unless I was a kid. It was nice to experience it sober.

Today I made my first batch of Kombucha Tea. I ordered it off of a person that has been making it for 3+ years and I got a nice perfect culture with some starter. I highly recommend getting it from this person because it is the cheapest and best place you will find it. The shipping was extremely fast too (2 days). Here is where I got it ---> http://search.ebay.com/_W0QQsassZbrinick12QQhtZ-1
I got a nice big perfect culture. I don't think it could have been any better from anywhere else. The 3 years + of experience really shows. Now I can have some of this tea next week sometime:) Do a google search on Kombucha Tea if you don't know what it is. I already drink green tea and take apple cider vinegar and thought this would make a great addition to them. Here is a picture I took after I made my batch. See that huge culture floating on the top? It's really neat!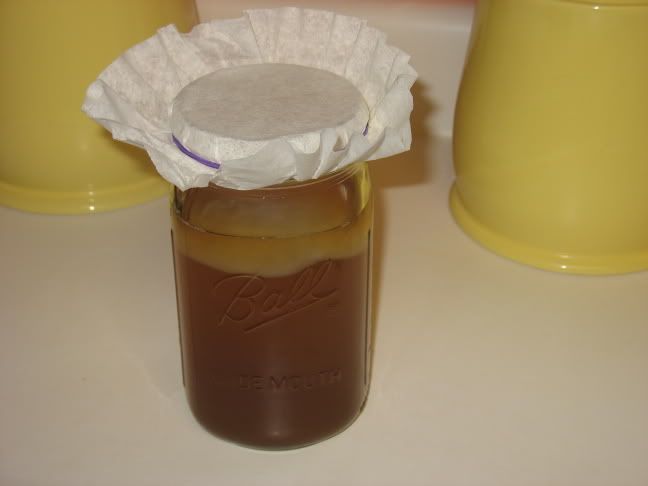 Add This Entry To Your CureZone Favorites!




Alert Webmaster
---
---
---